Technology
Super User
Category: Technology
Sunday, 27 November 2016 09:47
Africa's mobile market now becoming one of the biggest (See Photos)...
[The photo bove: Hostesses take a selfie during the African Footballer of the Year Award in Abuja, Nigeria on January 7, 2016]
(CNN) Silicon Valley, Africa's cell phone economy – The rise in Africa's mobile market is staggering.
Its population of mobile users now amount to 12% of all individual subscribers in the world and make up 6% of global revenue.
This is a 70% increase when compared to figures published just five years ago.
"The spectacular growth in mobile demand should result in 730 million individual subscribers by 2020.
It's market is second only to that of the Asia-Pacific region."

Smartphone sales now account for 23% of the mobile phone market. These sales are set to increase as infrastructure is modernized and network coverage improves.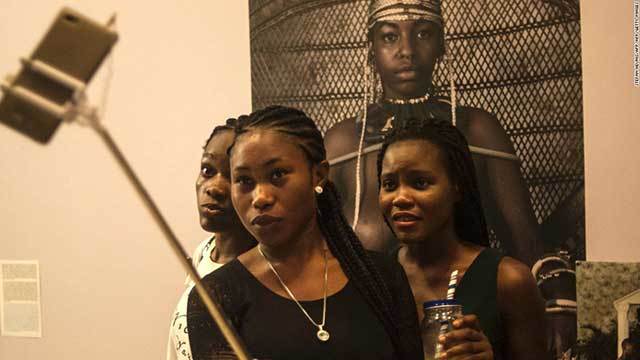 Pictured: Visitors take selfies during the opening of the Lagos Photo festival in Lagos on October 22, 2016.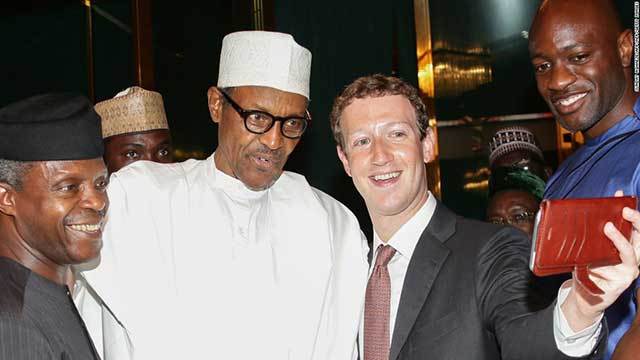 Pictured: Nigerian President Muhammadu Buhari (C) and Vice President Yemi Osinbajo (L) pose as Facebook founder Mark Zuckerberg (2nd R) takes a selfie picture with them, during a visit to the presidential palace in Abuja, Nigeria, on September 2, 2016.
Half of the 4G networks currently in use are less than two years old and 4G has just been made available in 24 countries.

While the market remains largely dominated by 2G packages, high-speed mobile connections (4G/LTE) are gaining ground.

In 2015, 46/LTE represented 25% of the market; this will rise to an estimated 60% by 2020.
At a time when Africa is hosting the COP22, the mobile phone sector has had a catastrophic environmental impact in the region.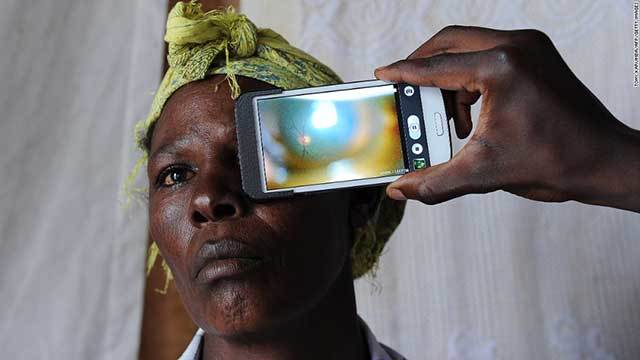 Pictured: A technician scans the eye of a woman with a smartphone application, in Kianjokoma village, near Kenya's lakeside town of Naivasha. The 'Eyephone app', a smartphone application which can detect eye diseases and disorders, could potentially provide low-income and poor Kenyans with an opportunity to get a quick and effective diagnosis of their eye problems, even in remote rural areas.
It is easy to repair a smartphone, by virtue of some creative handiwork in markets and souks. But this does not translate to the phones being easily recyclable, however.
Phones are mainly disposed of in landfills and unauthorized markets.
"The digital recycling sector, relating to the life-cycle of all high-tech products, must be completely re-examined, cleaned up, made viable and profitable in the long run throughout the continent," say academics.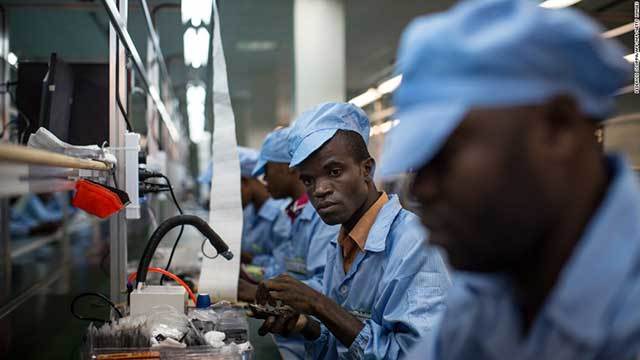 Pictured: Employees work on mobile phones on the assembly line at the VMK (for "Vumbuka", "Wake up" in Kituba) factory in Brazzaville on July 20, 2015. The factory, run by Verone Mankou, produces the first mobile phones made in French speaking Africa.
In 2012, economic activity related to mobile phones and their life-cycle accounted for about 3.3 million jobs.

The top five countries for mobile subscribers are Nigeria, Egypt, South Africa, Ethiopia and the Democratic Republic of Congo.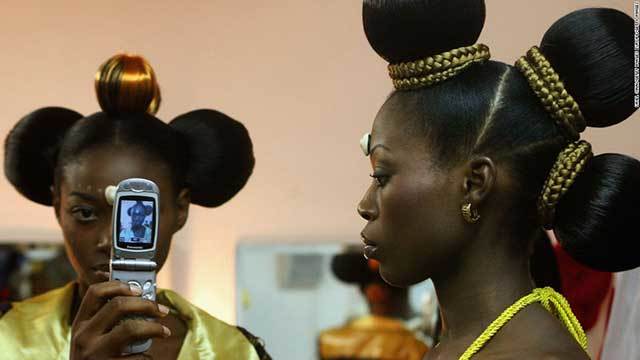 Pictured 5: Nigerian fashion models Mary Jane Unueroh and Fome Emede (L) take a photo of themselves with a cell phone behind the curtain during their fashion show to promote ethnic fashion in Tel Aviv, Israel.
Pictured 6: Profit Corner by Mario Macilau. A boy plays behind a discarded TV frame. Electronic waste is burned at the Maputo Municipal open pit dumpsite in Mozambique.
They account for about 44% of total subscribers, while the bottom 30 countries only make up 10%.
Pictured 8: Young Ivorians attending an Internet Festival in Abidjan, Ivory Coast.
-CNN