Odd News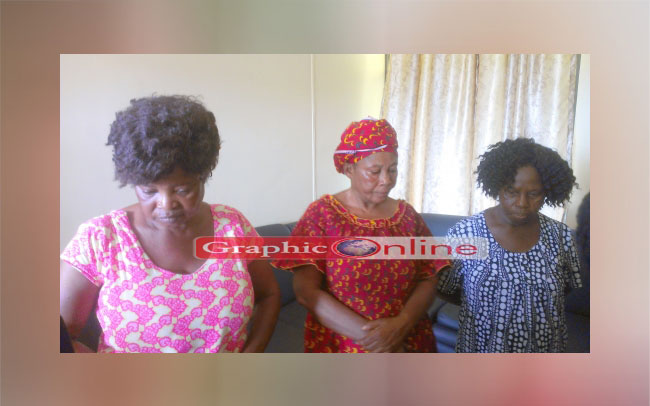 Super User
Category: Weird News
Tuesday, 03 June 2014 15:12
See the 3 women arrested for stealing a baby in Kumasi...
The owner of a maternity home at New Suame in Kumasi, Grace Osei Afriyie, has been arrested for the theft of a day old baby.
The Anti-Trafficking Unit of the Ashanti Regional Police Command arrested the 59 year-old owner of the Ayiwaah Maternity Home together with two other accomplices.
They are Comfort Adjei-Kyem, 57, a typist at the Kumasi Children's Home who arranged for the baby and Cecilia Annor, 44, a trader, who bought the baby at the cost of GHc3500.
Grace Afriyie was said to have sold the baby to Cecilia Annor, a resident of Abuakwa and trader at Kumasi Polytechnic through the assistance of Comfort.
The three who are being held on charges of human trafficking are currently in police custody.
Briefing the press, the Ashanti Regional Head of Anti-Human Trafficking Unit of the police, Assistant Superintendent of Police (ASP) Regina Aleanor Mintah, said Cecilia Annor who wanted to adopt a baby, contacted the Kumasi Children's Home.
Meanwhile, she said Cecilia had been posing all this while as a pregnant woman.
She said it was there that she met Adjei-Kyem who collected an amount of GHc500 for the adoption forms.
According to ASP Mintah, Adjei-Kyem later called Cecilia that the baby was ready and took her to Grace Osei Afriyie at the Maternity home where a day old baby was handed over to her.
She said Comfort Adjei-Kyem said an amount of GHc3500 was received from Cecilia Annor's husband who is yet to be interrogated by the police.
ASP Mintah said about a month ago, the police had intelligence that Cecilia Annor was having in her custody a baby boy that was suspected not to be hers.
She said police investigations led to her arrest and she confessed having received the baby from Comfort Adjei-Kyem.
The baby is currently in the custody of the Kumasi Children's Home and the police are yet to determine the real age of the baby who is said to be about five months old.
SOURCE: Daily Graphic