Odd News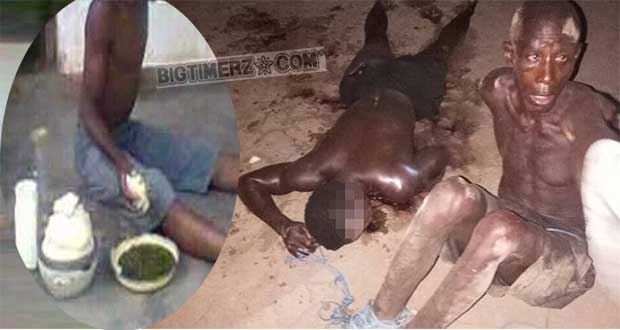 George Awiadem Maclean
Category: Weird News
Monday, 16 April 2018 13:15
Oh no! Father kílls his stepson over his left-over banku....
A 55-year-old farmer, Sampson Adekakye, has been arrested by the Abetifi Police in the Eastern Region for allegedly k!lling his 22-year-old stepson over banku.
DAILY GUIDE gathered that the incident occurred on Saturday at about 8:30 pm at Aprapong, a suburb of Abetifi in the Kwahu East District.
The suspect, who granted an interview to Agoo FM, an Nkawkaw-based radio station before his arrest, explained that when he returned from farm, he went to the kitchen to get his left-over banku but realized that his stepson had eaten the food.
According to him, when he enquired from the deceased why he ate the banku, it resulted into a heated argument.
The suspect said they exchanged words after which a meeting was held between him, the deceased and some committee members to address the matter.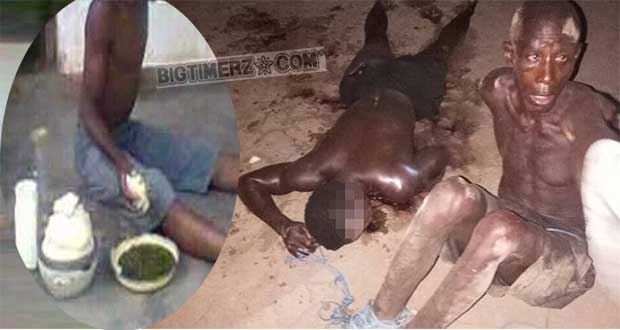 Photo: The suspect being tied by the residents and the deceased lying on the ground
He said after the meeting with the committee members, the deceased atacked him, and as a result of defending himself, he allegedly sta.bbed him with a kitchen knífe in the stomach, leading to his death.
On Sunday morning, the body of the deceased was ínterred in the village, but the residents, led by the Assembly man of the area, handed him over to the police.
Credit: Daily Guide