Odd News
Super User
Category: Weird News
Saturday, 07 March 2015 14:56
Photos Inside: Egyptian gov't angry over p0rn movie secretly filmed at the sites of their Pyramids...
Egyptian authorities have launched an investigation after a European p0rn star filmed a graphic movie while visiting the pyramids.The porn star flashes parts of her body repeatedly while on a coach trip to the tourist destination.
Speaking to the camera, the woman called Aurita complains about the views.
Driving past the pyramids, the 'actress' claims 'this f****** sucks. What is there to look at?'
'It really sucks, even our resorts are better.'
Next, she holds up a an ornamental cat which came from a souvenir stall.
She told the camera man: 'First he wanted ten bucks. I told him I won't buy it. I said I know where to get them for three bucks. Then he agreed three bucks'.
Once out at the pyramids, she points to one in the distance and said: 'Look, it's unfinished.'
When an Egyptian man approaches she tells him 'I don't want to ride on a camel.'
Her camera man suggests that she pays the man, she replies: 'I don't want to give him a dollar.'
The actress appears on the trailer wearing a tight pair of blue hotpants and a yellow top. She continually flashes various parts of her body towards the camera, even with fellow tourists in the background.
When her cameraman asked her to stand beside the Sphynx, she claimed: 'I don't want to stand here. We've already filmed it.'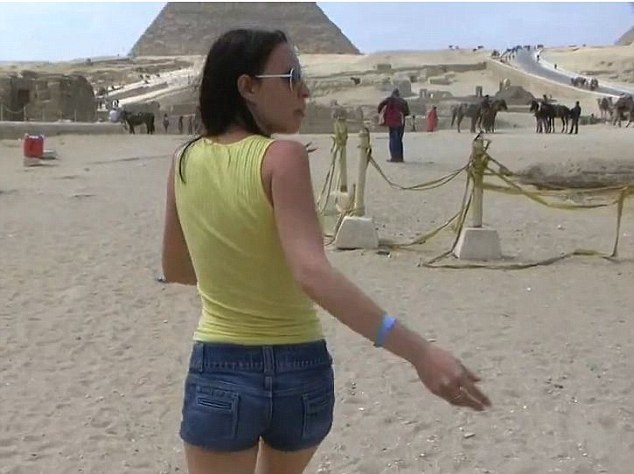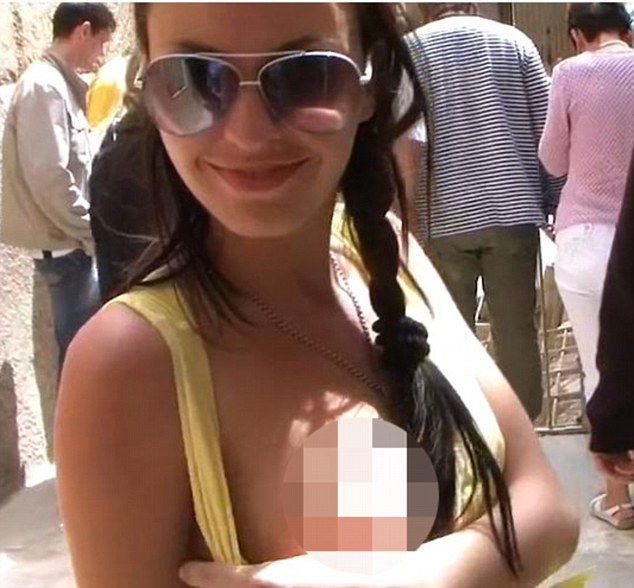 The movie culminates in graphic pornographic scenes involving the actress and a male co-star.
According to a report on Newstime Africa Egyptian authorities have been angered by the graphic film which features several iconic locations around Giza and Cairo.
Antiquities Minister Mamdouh al-Damati said: 'A set of sexually explicit scenes was illegally filmed inside the Giza Necropolis by a foreign tourist while visiting the site.'
He confirmed that prosecuting authorities are studying the movie Al-Damati said the incident had since been referred to prosecutors for investigation.
The company behind the movie released a ten-minute teaser video on the internet, introducing the the actress, who is believed to be Russian.
Initially Egyptian authorities claimed the movie had been faked, but now they have reversed their decision.
However, Egyptologists have branded the movies 'demeaning' and said the government should act to prevent its further distribution due to the effect it will have on Egyptian culture.
Bassam al-Shamaa said: 'Surveillance cameras aren't enough to secure such important sites. A full security cordon must be installed to prevent such incidents – which demean Egyptian civilisation – from reoccurring.
'If camera records confirm the filming of this video, the antiquities minister and the relevant security personnel should resign.'
SOURCE: Dailymail.co.uk