Odd News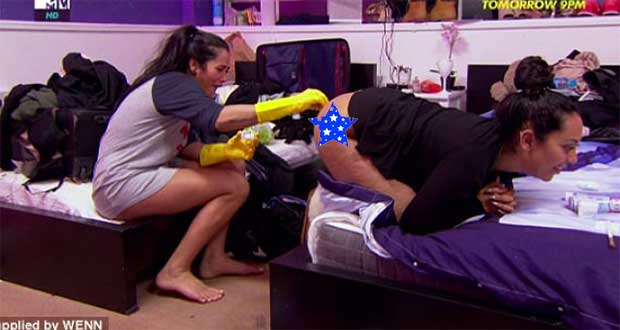 George Awiadem Maclean
Category: Weird News
Thursday, 07 December 2017 10:34
OMG! Demand for [email protected] bleaching has incredibly shot up...
Demand for [email protected] bleaching has risen by about a fifth in the past year as women 'feel under pressure to look like p0rn stars', figures suggest.
The trend was sparked after celebrities – including Sophie Kasaei, Charlotte Crosby and Kourtney Kardashian – revealed they have had the procedure.
It involves lightening the colour of the skin around the anvs for cosmetic purposes, to make it more uniform with the surrounding area.
Some treatments are applied in a salon by a cosmetic technician – including laser therapy – and others are sold as cream that can be applied at home.
[email protected] bleaching hit the headlines when Marnie Simpson bleached Sophie's bottom on Geordie Shore back in April.
Now a leading medical aesthetic clinic based in London has reported a large increase in the number of women – and sometimes men – asking for the procedure.
Sheri Johnson, clinic manager at HB Health of Knightsbridge, said: 'We have seen a rise of 23 per cent in the past year at the clinic.
Laser therapy is the most popular, accounting for around 95 per cent and cream treatments about five per cent.
'It's predominately women who come for the bleaching but we have had a few men in this year too.
'There's not one particular age group, we get young women right through to older women.
'I think women are feeling under pressure from their partners to emulate the look of adult stars that are seen in porn.'
Marnie and Sophie's former co-star Charlotte Crosby confessed she had the procedure done on Celebs Go Dating – much to the shock of her hunky dinner companion Danny.
And Kourtney Kardashian also admitted to getting the procedure on Kourtney and Khloe Take Miami.
Laser anal bleaching is carried out by using a cutting-edge technology laser. Most clients have a few sessions and each session usually takes 10-15 minutes. Some combine it with cream treatment.
The laser aims to remove the melanine layer which causes the undesirable dark colour.
The procedure is performed with local anesthesia as 'some people may find it painful' as Ms Johnson explains.
She said: 'People may have a darker colouring around the anus for lots of reasons.
'It may be genetic, or as a result of hormonal changes, age or other conditions.
'Pregnancy and the menopause can have an impact down there too.
'The laser treatment damages the skin so it can rebuild itself and it grows back whiter.

'Laser therapy is more expensive but quicker. It depends on the person but the desired look can be achieved in anything from a few days to a month with laser and with a cream it can take a few months of applications.'
[email protected] bleaching by laser costs £500 a session and most people need a few.
Ms Johnson said that laser bleaching comes with small risks of infection and scarring and stressed it was important to have it at in a professional clinic setting.
Credit: dailymail.co.uk