Odd News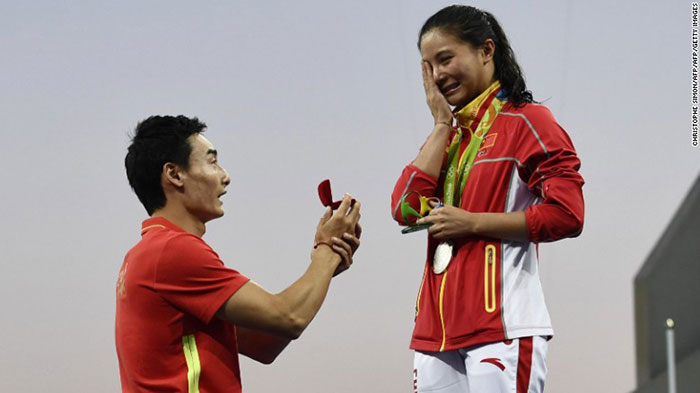 Super User
Category: Weird News
Monday, 15 August 2016 19:31
Chinese diver wins Olympic silver, then gets a proposal on the podium...
Love is in the air at Rio 2016 -- and the world's top athletes are getting in on the act.

Just moments after receiving her silver medal in Sunday's 3-meter springboard event, China's He Zi was asked to take a very different kind of plunge.
The 25-year-old was met by boyfriend Qin Kai, a fellow Olympic diver, who bent low on one knee by the podium before offering up a box containing an engagement ring.
She appeared shocked, and covered her mouth before Qin placed the ring on her finger and gave a "thumbs up" to the spectators.
"We've been dating for over six years," He Zi told reporters.
"I didn't know that he would propose today, and I didn't expect that I would marry myself out so early.

"He (Qin) said a lot of things there at the podium. He made a lot of promises, but the thing that has touched me the most is that I think this is the guy I can trust for the rest of my life."
Qin, a bronze medalist in the men's synchronized 3-meter springboard, also gave his wife-to-be a red rose encased in glass.
It's the second engagement to take place at a Rio Games venue, following that of Brazilian rugby player Isadora Cerullo and girlfriend Marjorie Enya last Monday.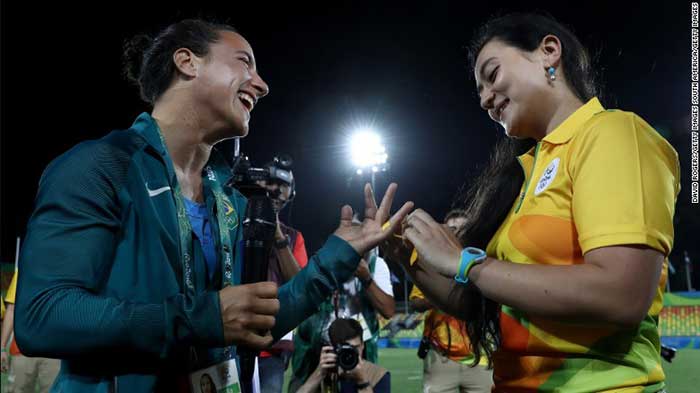 But there was no ring on that occasion, as Enya used a gold ribbon to tie around Cerullo's finger.
"The Olympic Games can look like closure but, for me, it's starting a new life with someone," Enya told the BBC.
"I wanted to show people that love wins."
SOURCE: CNN