Entertainment News
We need another J.J Rawlings to stop this bullsh*t killing Ghana - Episode | Do you agree?...

[By: George Awiadem Maclean EMAIL: This email address is being protected from spambots. You need JavaScript enabled to view it.]


It takes artistes with enough metal-like balls to opine and stoke debates their predecessors couldn't even survive.
One of Ghana's fast rising dancehall artistes and a nominee in the 'BEST NEW ARTISTE OF THE YEAR' and 'REGGAE/DANCEHALLl ARTISTE OF THE YEAR' categories of this year's Vodafone Ghana Music Awards, Episode, has said that there is the need for another President Jerry John Rawlings to rise up to stop the nonsense or total bullsh*t that has been killing Ghana for a long a time.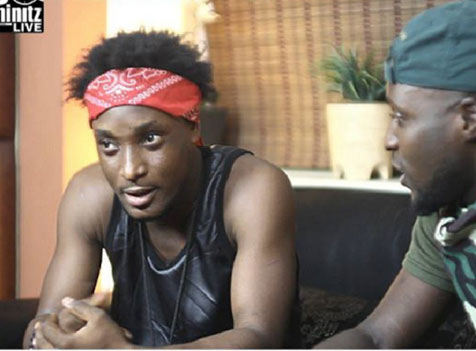 Image above: Ghanaian Dancehall artiste, Episode on the left


Episode, who already has hit songs like Ghetto Anthem (Mampi Riddim), We Still Okay (Still OK Riddim), Avatar (Fire Supreme Ridadim), Am blessed, Dust, amongst others, thinks it's about time we spoke the truth and faced realities as Ghanaians.
In fact, he intends dropping a tune he titles "We need another Rawlings" very soon that addresses what he terms 'so many bullsh*t killing our #Ghana'.
He dropped this bombshell in a post on his official page:
"Thinking of dropping a tune for all real people...It's time we speak the truth...So many bullsh*t killing our #Ghana...Dropping a tune soon titled #We need another Rawlings."
As to what informed his decision on this one, we can only wait for him to bring out the intended track which is still being 'cooked' in the studios.
By the way, do you agree with his assertion that we need another Rawlings in our time to stop what he calls the 'bullsh*t' killing our nation?
Former President J.J Rawlings first came to power following a coup d'état in 1979 whilst preaching "Probity and Accountability" and following it with what he described as a "House-Cleaning Exercise" by way of using it to 'cleanse' the Ghanaian society of all the corruption and social injustices.
He later handed power over to a civilian government under President Hilla Limann of the People's National Party (PNP) but deposed him on December 31st, 1981 and took over the affairs of this country as the Chairman of the Provisional National Defence Council.
In 1992, former president Rawlings resigned from the Armed Forces, founded the National Democratic Congress and became the first president of the Fourth Republic.
He was re-elected in 1996 for a further four years
SOURCE: Bigtimerz.com