Entertainment News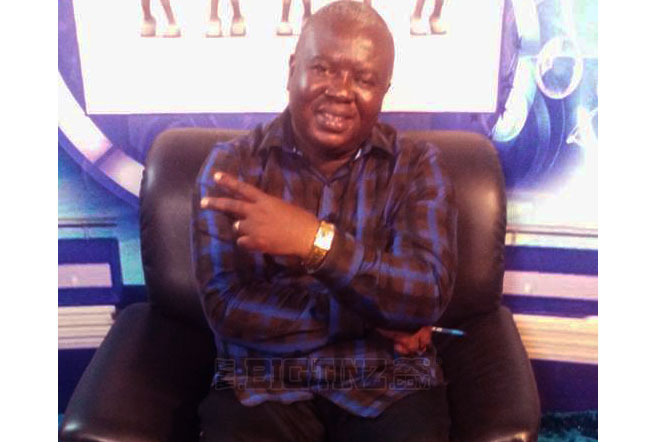 Stop acting like you are demigods with that little fame - Fred Kyei Mensah

[By: George Awiadem Maclean EMAIL: This email address is being protected from spambots. You need JavaScript enabled to view it.]


One of Ghana's highly respected music producers and an entertainment enthusiast, Fred Kyei Mensah, who's usually referred to as Uncle Fred, has advised the Ghanaian youth especially those in the arts and entertainment industry against acting or seeing themselves as demigods the moment they attain fame at an early age in their careers otherwise that wouldn't end them well.
The man who is responsible for the upbringing of great talents like Appietus In Da Mix and Jay Q cites the extravagant lifestyle of the late Kiki Gyan of the great OSIBISA Band fame who attained fame and money at an early age but lost all to hard drugs as an example.
Uncle Fred who is also known for having produced some of the best sound tracks which accompany some of the adverts you hear on radio and TV recounts how, in the year 2004, he had the chance of working with the late Kiki Gyan on his album and the experience he had from him after he (the late Kiki Gyan) had lavishly squandered all his money and relocated to Ghana.
Below is the full message of what he titles: "Stardom at an early age: My experience with the late KIKI GYAN of the OSIBISA BAND fame."
STARDOM AT AN EARLY AGE: My experience with the late KIKI GYAN of the OSIBISA BAND
"The year 2004 was a year that I had the chance to work on an album with the late Kofi Kwarko Gyan aka KIKI GYAN.
"He had then relocated to Ghana because of a related drug abuse problem which had rendered him incapacitated in his life and daily activities.
"His presence on the Piano was phenomenal as well as his composition and arrangement skills.
"In my interactions with him then, he was regretful of attaining STARDOM at an early age.
"He told me he spent extravagantly by travelling on private jets, sleeping in expensive hotels, dining in the best of restaurants, driving vintage cars, you name it.
"He said at some point in time that he considered himself as a DEMI GOD because he was dining with the elites in the world. Examples he gave were Queen Elizabeth, Prince Charles, Elton John, etc.
"What do I want to arrive at? Often times, we are blinded by the little fame we achieve and tend to do things which are incompatible with our lives.
"With all the fame and riches that Kiki Gyan achieved, he never enjoyed the fullness of life.
"At that youthful age, he thought time was on his side but later realized it was all too late.
"The album I did with him was never released before he died. May I advice my fellow STARS and "CELEBRITIES" to go slow on some of their little achievements.
"Chronicles of life from my humble abode in POKUASE."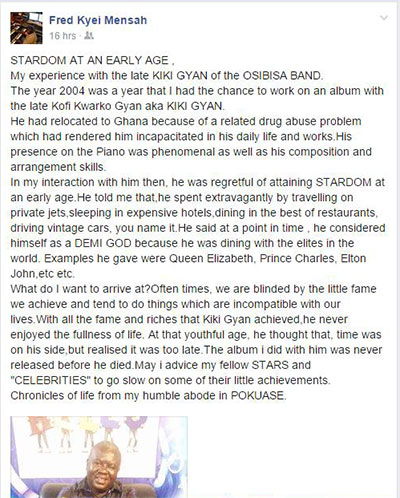 SOURCE: Bigtimerz.com