Entertainment News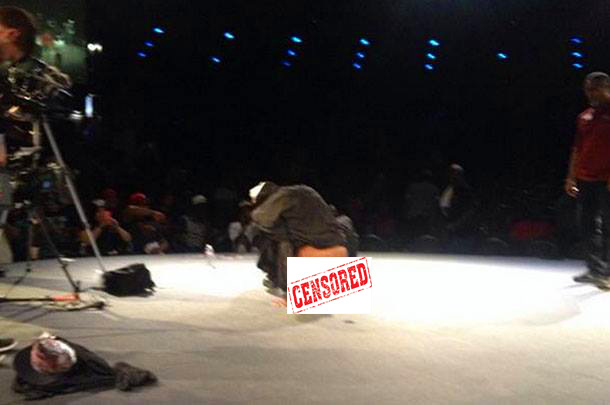 Super User
Category: Entertainment
Tuesday, 07 October 2014 22:30
Shocking: Prominent battle rapper tries to sh*t on stage for...
Daylyt is quite the prominent battle rapper, garnering acclaim on the URL circuit, and even being featured on Ab-Soul's latest album, 'These Days'.
However, he's equally known for being a pretty controversial figure, threatening to do a wide range of crazy, ill-advised things during his battles, including what he just recently attempted to do: defecate on stage.
During a battle, in which he was going against Real Deal in Arizona, Daylyt was booed while he was on stage, due to an over-the-top outfit reminiscent of Kanye West's Yeezys wardrobe–just the type of grandeur that is frowned upon in the stripped-down culture of battle rapping.
Daylyt wasn't on stage long before the crowd began heckling and booing him, which is when he attempted the unthinkable.
The above photograph is a picture of Daylyt literally trying to move his bowels live on stage at the battle.