Entertainment News
His wife Kim Kardashian bared all on her infamous cover, and now Kanye West graces the April 2015 issue of PAPER magazine.
While Yeezy doesn't strip down (he does rock a Nori chain), he tells the naked truth in the story, which was written in his own words.

HE WANTS TO INSPIRE YOUNG ARTISTS: "I think it's so important for me, as an artist, to give Drake as much information as I can, A$AP, Kendrick, Taylor Swift, any of these younger artists as much information as I can to make better music in the future. We should all be trying to make something that's better."

HE STANDS BY HIS FASHION CHOICES: "And when you sit down with Riccardo Tisci at the Louvre and he pitches the idea of you wearing a leather kilt, which could be considered by all of your gangbanging friends as some sort of a dress or skirt, at that point you are now a part of the fashion world. You have paid your dues to be an insider.
I paid my dues when I had to wear a kilt in Chicago, and friends would say, 'What's your boy got on?' But there are warriors that have killed people in kilts in the past. Who gets to decide what's hard and what's not hard? When I saw this kilt, I liked it. I was into it. It looked fresh to me. I felt creative; I didn't feel limited by some perception."

HIS FOCUS HAS SHIFTED: "It's just harder for me to do music now, period. It's easier for people who focus on it all day and who are younger in their concept of what they want to do with it. I am not what I would consider truly a musician. I am an inventor. I am an innovator."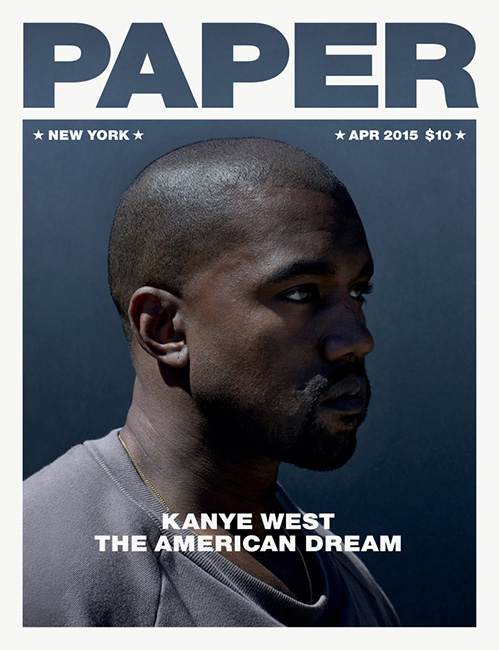 HE WANTS TO SQUASH THE ILLUMINATI RUMORS: "I heard a comment—a joke—about the TIDAL press conference being an Illuminati moment. If there was actually an Illuminati, it would be more like the energy companies.
Not celebrities that gave their life to music and who are pinpointed as decoys for people who really run the world. I'm tired of people pinpointing musicians as the Illuminati. That's ridiculous. We don't run anything; we're celebrities. We're the face of brands.
We have to compromise what we say in lyrics so we don't lose money on a contract. Madonna is in her 50s and gave everything she had to go up on an award show and get choked by her cape. She's judged for who she adopts. Fuck all of this sensationalism. We gave you our lives. We gave you our hearts. We gave you our opinions!"

HE HAS NO REGRETS: "When I look in North's eyes, I'm happy about every mistake I've ever made. I'm happy that I fought to bring some type of reality to this world we choose to stay in right now, driven by brands and corporations."

HE EXPERIENCED RACISM AS A KID: "When I was 10 years old I lived in China, and at the time they used to come up to me and rub my face to see if the color would rub off. It was really fucked up, but I feel like it was preparing me for a world perspective that a lot of my friends who never got a chance to travel didn't get. Now my perspective, a lot of times, is so much wider than someone who's limited to the concept of any particular so-called world that's not the real world."

HE JUST WANTS TO HELP: "The times that I've looked like a crazy person—when I was screaming at an interviewer or screaming from the stage—all I was screaming was, 'Help me to help more! I've given all I've got. I've gone into fucking debt. It's all I've got to give. But if I had a little bit more opportunity, I could give so much more.' That's what I was screaming for. Help me to help more."

SOURCE: Rap-up.com
MAIN SOURCE: Papermag.com