Entertainment News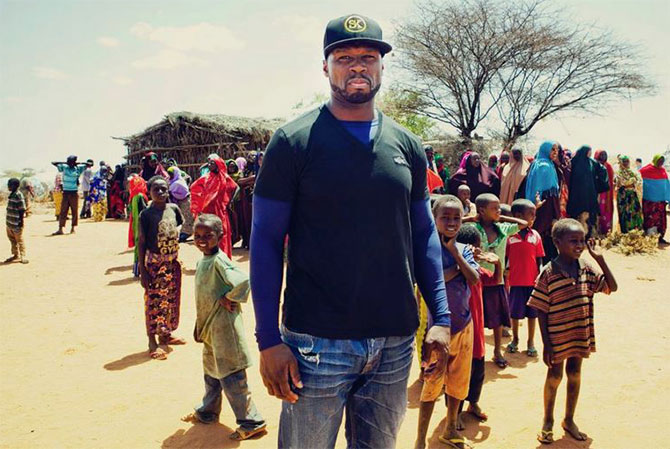 Super User
Category: Entertainment
Wednesday, 28 January 2015 00:00
Great Job! 50 Cent on a mission to feed one billion people in Africa...
The average person wouldn't put famine relief and 50 Cent in the same sentence. The rap artist, entrepreneur, and occasional actor, is primarily known for churning out hit songs, and for his "beefs" with various other artists.
Not to mention surviving nine gunshots at close range. He has also become one of the rap world's most successful businesspeople. He currently has a net worth of $260 million.
His rocky road to success is the stuff of legends. Though he now owns property in multiple cities, and controls a veritable entertainment and retail empire, his rough early years in the business still somewhat overshadow what he has managed to build.
Consequently, famine relief and 50 Cent have very little chance of being paired up in anyone's mind. However, they should be. Here's how a rapper, who was at one point "blacklisted" from the US recording industry, has gone on to become a successful artist, businessperson, and interestingly, philanthropist. Still can't quite wrap your head around 50 Cent and famine relief? Well, get used to it, because 50 Cent has plans...
50 Cent, also known as Curtis Jackson III, was born in South Jamaica, Queens, New York on July 6, 1975. His mother was 15 when she gave birth to him and his early years were rough. His mother passed away when he was 8, and he went to live with his grandparents. He began boxing when he was in fifth grade, and began dealing in drugs when he was in middle school.
Though he had major potential as a boxer, and went on to compete in the Junior Olympics, his plans to focus on boxing were ultimately derailed by his drug-selling business. After he set off a metal detector at his high school, he confessed to peddling drugs, and was sent off to a boot camp for troubled teens. After completing his time at the boot camp, he adopted the name 50 Cent, and began recording tracks in his friend's basement. Jam Master Jay of Run-D.M.C. took an interest in the young rapper, and taught him how to write and structure songs. He recorded an entire album that was ultimately never released. Then he signed with Columbia Records and began working on a new album.
In 2000, he was shot nine times at close range while getting in to his car in front of his grandmother's house. He somehow survived and spent the next five months getting back on his feet.
He signed a publishing deal with Columbia while he was recovering, and intended to hit the ground running once he was able to move around better. However, his track, "Ghetto Qu'ran", ruffled all the wrong feathers. Columbia dropped him and no one would record with him.
He set out for Canada and recorded thirty tracks there. He released each track carefully and strategically culminating in his 2002 mixtape, "Guess Who's Back". His audience began to grow exponentially, and later that year, he was invited to meet with Eminem and Dr. Dre. His debut studio album, "Get Rich or Die Tryin'", was a hit right out of the gate. It sold almost a million copies in four days, and the track "In da Club", became the most listened-to song in its first week, in radio history.
Interscope was so pleased with his success that they allowed him to launch his own label, G-Unit Records. The rap artist was now also a businessman. Over the course of the next ten years, he would go on to release four more albums, and to launch his own entertainment empire in the same vein as Jay-Z and Dr. Dre.
The clothing arm of G-Unit, G-Unit Clothing Company partnered with Reebok from 2003-2008. He partnered with Coca-Cola and Glaceau to create a signature Vitamin Water flavor.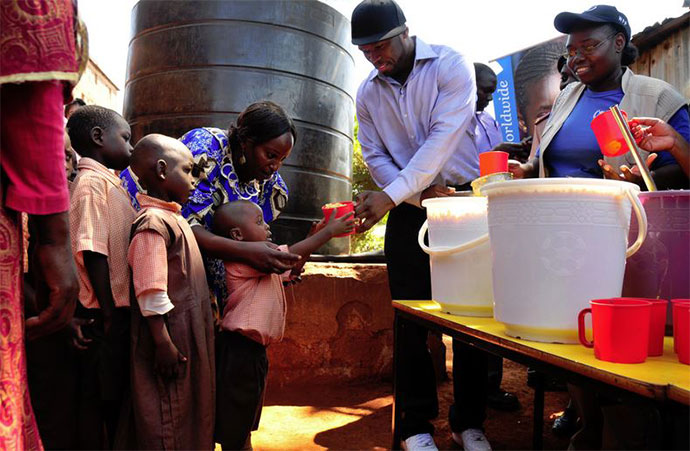 He has also partnered with Right Guard and Steiner Sports. He now has two production companies, is a licensed boxing promoter, and oversees G-Unit Books, a Time Warner imprint. To date, he has published two books and a graphic novel. He has become quite, quite wealthy, and owns property in multiple cities.
However, in 2011, he suddenly shifted his focus to philanthropic activities. While he'd donated large amounts to various charities off and on over the years, 2011 was the first year that he took greater initiative. He helped launch Street King energy drink, in collaboration with Pure Growth Partners.
Every time a bottle of Street King is purchased, a portion of the money goes towards feeding a child who would otherwise not have access to enough food. The project arose out of 50 Cent's pledge to feed one billion people in Africa between 2011 and 2016. The SK Energy Shot, as it is now known, was ranked the #1 energy drink by Product of the Year in both 2013 and 2014. The company is, by all accounts, a success, and has reportedly provided millions of meals to needy children at this point.
50 Cent survived a childhood that involved drugs, violence, and juvenile detention. He survived nine gunshot wounds and made an almost complete recovery. He salvaged his recording career after being turned away from every studio. He built a company that has its fingers in everything from filmmaking to boxing to video games.
Finally, he has made a concerted effort to give back, and to make the world a better place. The latter is something that all rap artists could do more often. When it comes to philanthropic work, he is a trailblazer within the hip hop community.
He says that his son inspires him to be a better person. Whatever the impetus, here's hoping he continues to be generous. He seems able to succeed at whatever he puts his mind to, and now it seems that he's put his mind to saving the world. So... 50 Cent and famine relief do actually go hand-in-hand. I guess we'll all just have to get used to it.
SOURCE: Celebritynetworth.com