Entertainment News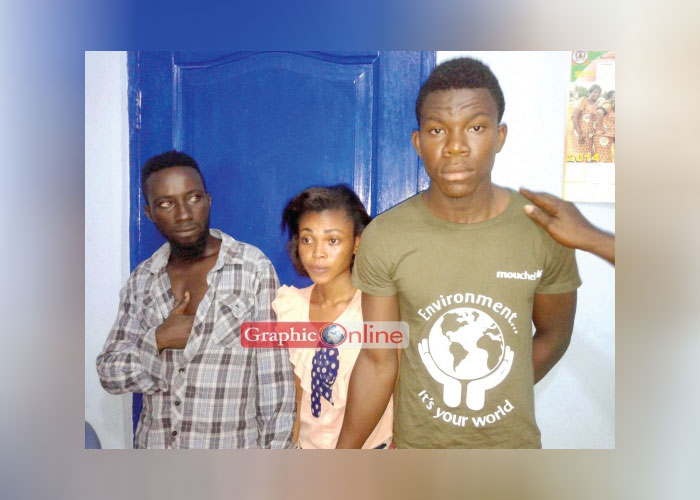 A 25-year-old polytechnic student, Sefakor Ayeke and her two accomplices have been arrested in Accra for engaging children in p0rnography and filming the act.
Sefakor, a first-year Banking and Finance student, was arrested together with two male accomplices — Isaac Parku Dodzi, 18, and Ebenezer Asiedu, 22.
She is said to have lured two girls, aged eight and 10, to suck the manhood of her male accomplices, while she filmed the act.
On two separate occasions, Sefakor was reported to have taken the children to a guest house where she demonstrated to them how they should suck the penises of her accomplices and compelled them to do just that.
The police said she produced the video tapes for a white lover who lived abroad.

Father reports
Briefing the Daily Graphic, the Madina Coordinator of the Domestic Violence and Victims Support Unit (DOVVSU) of the Ghana Police Service, Assistant Superintendent of Police, Mrs Christine Srofenyo, said the father of one of the children reported the incident to the police on October 2, 2014.
After four days of investigating the activities of the suspects, the police arrested the three.
Sefakor was arrested while she was writing her end-of-semester examination, while her accomplices who lived in separate houses were arrested at Madina.

Death threat
According to Mrs Srofenyo, the complainant said his eight-year-old daughter started asking strange questions and behaving strangely after spending holidays with her aunt who lived at Madina.
The girl was said to have claimed that she had something to say but she was afraid she might die if she did so.
Mrs Srofenyo said after much cajoling by her parents, the girl told her parents that while she was on vacation at her aunt's place, a neighbour made her and her 10-year-old cousin suck the manhood of a man.
"But the girl said they were warned by the neighbour not to tell anyone about the act else they would die," the coordinator said.
Through investigations, Mrs Srofenyo said, it had been revealed that Sefakor was dating a white man who had promised to marry her if she could produce a sex video for him.
She lured the children by befriending them and giving them gifts.
"She took them into her room to use her computer and played with them. She also took them to the Internet café sometimes and bought gifts for them," Mrs Srofenyo added.