Entertainment News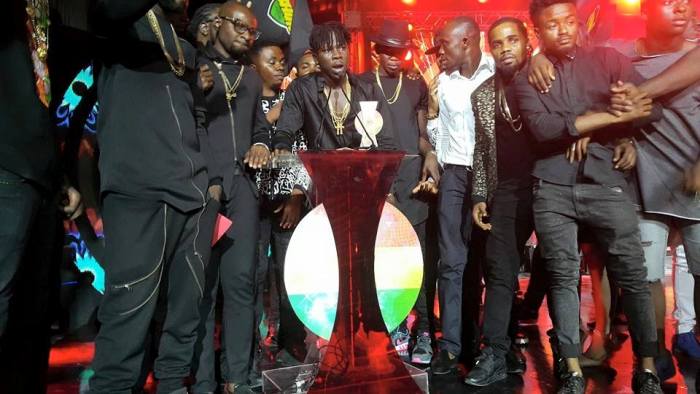 Full list: Vodafone Ghana Music Awards 2015 winners, Stonebwoy wins overall artiste of the year...
The Vodafone Ghana Music Awards which is arguably the nation's biggest event came off at the Accra International Conference Centre as planned on Saturday, April 11th, 2015.
The overall artiste of the year as many Ghanaians expected was won by Stonebwoy.
READ ALSO: Full list of Industry award winners
But before reading through the full list of winners including all the industry award winners, this is the report as presented by the official website of the awards scheme, Ghanamusicawards.com:
It was all screams and cheers at the 16th Vodafone Ghana Music Awards on Saturday as the audience were thrilled with electrifying performances.
The much anticipated night was full of glitz and glamour and the country came to a standstill for the biggest awards event. The red carpet saw the best display of various costumes. The show was hosted by award-winning presenter and actress Joselyn Dumas and renowned broadcaster Nathaniel Attoh.
Wiyaala opened the show with energetic display of her craft. Vodafone Icons winner Royal Chris also performed his new song Otega. No Tribe had an electrifying performance and they also won the Gospel Artiste of the Year and walked away with a Kantanka Brand new car.
The winners for the Unsung category Dark Suburb thrilled the auditorium with some alternative rock renditions. Yemi Alade gave the crowd a captivating performance. The Compozers from the UK mesmerized the auditorium with renditions of popular Ghanaian songs. The organizers took patrons back into time by bringing on Tic Tac who performed some of his hit songs from the good old days. Tinny also surprised the fans as he come on stage to dish out the songs that earned him the 'Aletse Kampke' accolade. Highlife legend Daddy Lumba also thrilled the audience with his soothing top-charting songs.
A short documentary was played to show respect to Castro as the auditorium went sober, which was an indication that they all hope he will be found.
Stonebwoy charged the ambiance with his energetic live performance as he managed to get the crowd involved in his act. It was quite evident why he was also voted Best Dancehall artiste for the year. Nigerian act Patoranking also came on stage with Seyi Shey. The closing performance was from Samini who rocked the entire audience.

Here is the full list of winners of the Vodafone Ghana Music Awards 2015

Overall Artiste(s) of the Year
● Daddy Lumba
● Stonebwoy (Winner)
● Guru
● Edem
● MzVee
● Sarkodie
● Samini
Hiplife\Hiphop Artiste(s) of the Year
● EL
● Joey B
● Sarkodie (Winner)
● Guru
● Pappy Kojo
● D-Black
● Edem
Highlife Artiste(s) of the Year
● Bisa Kdei
● Daddy Lumba (Winner)
● Afriyie
Reggae /Dancehall Artiste of the Year
● Stonebwoy (Winner)
● Ras Kuuku
● MzVee
● Samini
● Kaakie
● Episode
Best New Artiste(s) of The Year
● Episode
● Pappy Kojo
● MzVee (Winner)
● Emelia Arthur
● Wiyaala
● Vybrant Faya
Gospel Artiste(s) of the Year
● No Tribe (Winner)
● Koda
● Selina Boateng
● Gifty Osei
● Joe Mettle
● Anita Afriyie
● Evang. Diana Asamoah
African Artiste(s) of the Year
● Tiwa Savage
● AKA
● Supreme Mavin Group
● Patoranking (Winner)
● Yemi Alade
● Diamond Platnumz
Best Collaboration of the Year
● Koene - Edem ft. Ice Queen & Lil Shaker
● Alpha & Omega - Selina Boateng ft. Uncle Ato
● Baby Dance - 4X4 ft. Davido
● Adonai rmx - Sarkodie ft. Castro (Winner)
● Seihor - Castro ft. D Black
● Love Rocks - Sarkodie ft. Samini
● Baafira - Stonebwoy ft. Sarkodie
Hiplife Song of the Year
● Pooley - Guru
● Seihor - Castro ft. D-Black (Winner)
● Selfie - VVIP
● Personal Person - D-Black ft. Castro
● Iskoki - Samini
● Adonai (remix) - Sarkodie ft. Castro
Best Highlife Song of the Year
● Neε Woho Betɔ Wo - Daddy Lumba (Winner)
● Saa - Bisa Kdei
● Lobi - R2Bees
● I Do - Afriyie
● Baby Dance - 4x4 ft. Davido
Afro-Pop Song of the Year
● One of your own - Efya ft. Bisa Kdei
● Koene Koene - Edem ft. Ice Queen & Lil Shaker (Winner)
● Spanner - ItzTiffany ft. Fuse ODG
● Killing Me Softy - R2Bees
● Tinambaynyi - Wiyaala
● Dangerous Love - Fuse ODG ft. Sean Paul
Vodafone Most Popular Song of the year
● Seihor - Castro ft. D Black
● Neε Woho Betɔ Wo - Daddy Lumba
● Adonai (remix) - Sarkodie ft Castro (Winner)
● Koene - Edem ft. Ice Queen & Lil Shaker
● Baafira - Stonebwoy ft. Sarkodie
● Pooley - Guru
● Selfie - VVIP
● Iskoki - Samini
● Alpha & Omega - Selina Boateng ft. Uncle Ato
● Hymm - Evang. Diana Asamoah
Gospel Song of the year
● Kyere me kwan - Emelia Arthur ft. OJ & Esther Smith
● Yento nkyia - Gifty Osei
● Osabarima - No Tribe
● Alpha and Omega - Selina Boateng ft. Uncle Ato (Winner)
● Nkwa Abodoo - Koda
● Adehye Mogya - Anita Afriyie
● Hymm (Pentecost Soree Nwom) - Evang. Diana Asamoah
Reggae /Dancehall Song of the Year
● Show them love - Ras Kuuku
● Ronaldo - Kaakie
● Love Rocks - Sarkodie ft. Samini
● Mampi - Vybrant Faya
● Natural Girl - MzVee ft. Stonebwoy
● Baafira Stonebwoy ft. Sarkodie (Winner)
Hip Hop Song of the Year
● Realer no - Pappy Kojo ft. Joey B (Winner)
● Shots on shots - Sarkodie & Ice Prince
● American Passport - EL ft. Joey B
● Wave - Joey B ft. Pappy Kojo
● The One (remix) - Edem ft. Sway
● Finish Line (remix) - Dee Moneey ft. Ice Prince, M.anifest, PaeDae,J Town, Reminisce
Album of the Year
● Wiyaala - Wiyaala
● Books & Rhymes - Edem (Winner)
● Necessary Evil - Stonebwoy
● Re-Vee-Lation - MzVee
● I'm Grateful - Selina Boateng
Best female Vocal Performance
● Efya - One of your own
● Becca - Tell Me
● Wiyaala - Tinambaynyi (Winner)
● Raquel - I won't cry
● Jael Wiafe - Keep on believing
● MzVee - My everything
Best Male Vocal Performance
● I do - Afriyie
● Nkwa Abodoo - Koda
● Neε Woho Betɔ Wo - Daddy Lumba
● Turning Around - Joe Mettle (Winner)
Best Rapper of the year Song
● Sarkodie - Shots on shots
● EL - American Passport (Winner)
● Guru - Keep Walking
● Edem - The One (remix)
Best Music Video of The year Directed By
● Baby Dance - 4X4 Clarence Peters
● Move - Becca Nicky Campos
● The One (remix) - Edem ft. sway Gyo Gyimah (Winner)
● Koene - Edem ft. Ice Queen & Lil Shaker Gyo Gyimah
● No Shortcut to heaven - M.anifest Garth Von Glehn
● Setewaa D3nky3 - D-Black Justin Campos
● Adonai (remix) - Sarkodie ft. Castro Nana Kofi Asihene
Group of the Year
● VVIP (Winner)
● 4X4
● R2Bees
● No Tribe
Here is the list of Industry award winners which was held on Monday April 6th, 2015

Song writer of the year
● Bisa Kdei - One of your own By Efya ft. Bisa Kdei
● Wiyaala & Melissa va der Spuy Africa By Wiyaala (Winner)
● Afriyie - I do By Afriyie
● Obrafour - Odasani
● Daddy Lumba - Neε Woho Betɔ Wo
Record of the Year
● Tontonti - Afriyie
● Tinambaynyi - Wiyaala
● Nkwa Abodoo - Koda (Winner)
● One of your own - Efya
● Book of hiplife - VVIP
● Love Rocks - Sarkodie ft. Samini
Gospel Album of the year
● One God - No Tribe
● I'm Grateful - Selina Boateng
● Jesus be too much - Gifty Osei
● Pentecost Soree Nwom - Evang. Diana Asamoah (Winner)
Producer of the Year
● DJ Breezy Seihor - Castro ft. D Black (Winner)
● Bodo Staiger Neε Woho Betɔ Wo - Daddy Lumba
● Street Beat Adonai rmx - Sarkodie ft. Castro
● Magnom Koene - Edem ft. Ice Queen & Lil Shaker
● Dakay Baafira - Stonebwoy ft. Sarkodie
● Ball J Pooley - Guru
● DJ Breezy Selfie - VVIP
● George Forest Hymm (Pentecost Soree Nwom) - Evang. Diana Asamoah
● Shadrack Y. Alpha & Omega - Selina Boteng
● Mix Master Garzy Iskoki - Samini
Instrumentalist of the Year --- Frank Kissi

Sound Engineer of the Year --- George Forest (Wins it for the first time)
World Bank Music for Development Honours --- Nii Okai (Save a Heart Foundation)

Traditional Artiste of the Year - King Ayisoba

Musiga Honours --- J.V Owusu

Lifetime Achievement --- Nana Ampadu