Entertainment News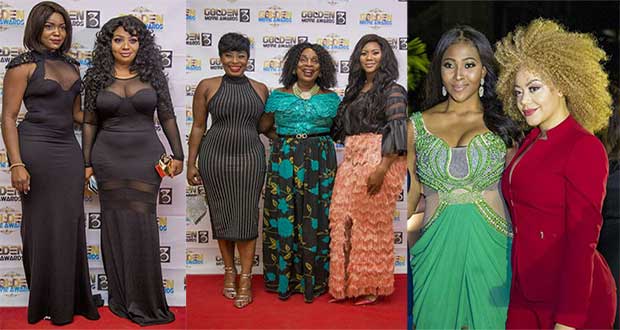 George Awiadem Maclean
Category: Entertainment
Sunday, 23 July 2017 01:03
See the 2017 Golden Movie Awards Africa full list of winners...
The 2017 Golden Movie Awards (GMAA) was staged successfully at the plush Movenpic Ambassador Hotel in Accra by the organizers, NMJ Ghana.
The 3rd Annual Edition which was hosted by AY the comedian and Osas Ajibade all from Nigeria saw the crème de la crème of the movie industry from Ghana and across Africa.
Vetran Ghanaian movie actress, Grace Omaboe widely known as Maame Dokono was honoured with the Golden Honorary Award.
Highlife musician KK Fosu treated patrons at the event with great dose of Ghanaian music.
Here is the full list of winners on the night:
GOLDEN ACTOR (COMEDY)

Ayo Makun (A Trip To Jamaica)-----------------------Winner
Richard Asante (Amakye & Dde)
Majid Michel (Amakye & Dede)

GOLDEN ACTOR (DRAMA)

C Ukeye (Catch.ER)
Eddie Watson (3 Is A Crowd)
Chris Okagbue (Lotanna)
Sambasa Nzeribe (Slow Country)
Enyinna Nwigwe (Hire A Man)
Femi Jacob (Just Married)

GOLDEN ACTOR (SERIES)

Jordan Adgualor (The Idiot And I)
Adjetey Annang (Table Of Men)
Lirotha Mcdonald (Samba)----------------------Winner
James Gadner (Everyday People)
John Peasah (Yolo)
Kweku Elliot (Everyday People)

GOLDEN ACTRESS (COMEDY)

Priscilla Agyeman (Amakye & Dede)
Funke Akindele (Trip To Jamaica)----------------------Winner
Zynell Zuh ( Hire A Man )
Lydia Forson (Keteke)

GOLDEN ACTRESS ( DRAMA )

Kalsum Sinare (Sala)-----------------------------------Winner
Beverly Naya (Catch.ER)
Ivie Okujaye (Slow Country)
Adesua Etomi (Ayama)
Zynell Zuh (Just Married)

GOLDEN ACTRESS (SERIES)

Naa Ashorkor (Table Of Men)
Ade Kelly (Samba)---------------------------------Winner
Judith Asante (Sunshine Avenue)
Gloria Sarfo (Living With Trisha)
Ivy Adjima (Yolo)
Jessica Williams (Table Of Men)

GOLDEN ART DIRECTOR
Toca Macbaror (Lotanna)----------------------------Winner
Quist & Twedie (Keteke)
Behind The Wheels
Slow Country

GOLDEN CENIMATOGRAPHY
Kelly Doe (Keteke)
Kelly Doe (Amakye & Dede)
Robert Peter (A Trip To Jamaica)
Toca Macbaror (Lotanna)---------------------------------Winner
Tom Robson (3 Is A Crowd)

GOLDEN COSTUMIER
Samba
3 Is A Crowd
Lotanna-----------------------------------------Winner
Keteke

GOLDEN DIRECTOR

Toca Macbaror (Lotanna)-----------------------------Winner
Desmond Elliot (3 Is A Crowd)
Kobi Rana (Sala)
Robert Peter (A Trip To Jamaica)
Kofi Asamoah (Amakye & Dede)
GOLDEN DISCOVERY ACTOR/ACTRESS

Hauwa Allahbura (3 Is A Crowd)
Emman Sinare (Sala)--------------------------------Winner
Nancy Isime (Hire A Man)
Jessica Larny (Everyday People)
Paula Obaseke (Reverse)

GOLDEN EDITOR

Laurenne Abdullah & Peter Sedufia (Keteke)--------------Winner
Toca Macbaror (Lotanna)
Tunde & Patrick (A Trip To Jamaica)
Afra Marley & Peter (Sala)
Kofi Asamoah (Amakye & Dede)
GOLDEN INDIGENOUS

Utopia
Daggers Of Life-------------------------------------Winners
Perfect Love

GOLDEN MAKEUP

Sala
Lotanna
Slow Country--------------------------------------------Winners
Ayama
Trip To Jamaica

GOLDEN MAKEUP ARTIST

Emeka Lam (Lotanna)
Sandra & Hakim (Slow Country)---------------------------Winner
Sandra (Amakye & Dede)
Divine Page (Trip To Jamaica)
GOLDEN MOST PROMIMISING ACTOR/ACTRESS

Hauwa Allahbura (3 Is A Crowd)-----------------------------------------Winner
Emman Sinare (Sala)
Nancy Isime (Hire A Man)
Jessica Williams (The Devil Between My Legs)
Jessica Larny (Everyday People)

GOLDEN MOVIE COMEDY

Keteke
Amakye & Dede
A Trip To Jamaica----------------------Winner
Hire A Man

GOLDEN MOVIE

(3 Is A Crowd)
Sala
Lotanna------------------------------------winner
A Trip To Jamaica
Ayamma

GOLDEN SHORT FILM

Ivieme
Running
Bitter Sweet Wine------------------------Winner
Dabara
Broken

GOLDEN SOUND

Lotanna--------------------------------------Winner
Trip To Jamaica
Sala
Keteke
GLODEN STORY (DRAMA)

ER
Sala--------------------------------------Winnner
(3 Is A Crowd)
Slow Country

GOLDEN SUPPORTING ACTOR (COMEDY)

Majid Michel (Amakye & Dede)
Ike Ogbona (Hire A Man)
Dan Davies (A Trip To Jamaica)------------------------Winner
John Dumelo (Amakye & Dede)

GOLDEN SUPPORTING ACTOR ( DRAMA )

Victor Deker (Lotanna)
Fred Amugi (Sala)
Desmond Elliot (3 Is A Crowd)
Wale Ojo ( Ayama)----------------------------------------Winner
Blossom Chukwujekwu (Catch.ER)
GOLDEN SUPPORTING ACTRESS ( COMEDY )

Nse Ikpe Etim (Trip To Jamaica)
Shaffy Bello (Hire A Man)
Roslyn Ngissah (Amakye & Dede)--------------------------Winner
Nancy Isime (Hire A Man)

GOLDEN SUPPORTING ACTRESS ( DRAMA )

Emman Sinare (Sala)------------------------------------Winner
Liz Benson (3 Is A Crowd)
Hauwa Allahbura (Reverse)
Jackie Appiah (Sala)
GOLDEN TV SERIES

Samba-------------------------------------Winner
Table Of Men
Sunshine Avenue
Yolo
The Idiot And I
GOLDEN WRITER COMEDY

Peter Sedufia (Keteke)
Ayo Makun (Trip To Jamaica)
Kofi Asamoh (Amakye & Dede)
Writers Ink (Hire A Man)

GOLDEN WRITER DRAMA

Koby Rana (Sala)-----------------------------Winner
Tunde Apalawo (Catcher.ER)
3 Kemi Adesoye (Lotanna)
Vivien Chiji (3 Is A Crowd)
Vivien Chiji (Ayama)
-Bigtimerz.com