Buzzing Moments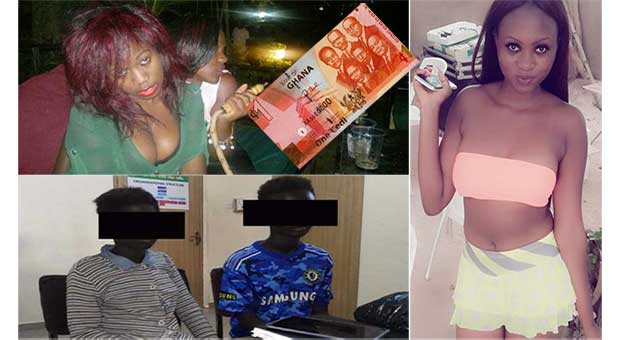 OMG! Young ashawo teenage girls in Cape Coast charge just GH¢1 for séx, others on credit basis...
The Department of Social Welfare in Cape Coast says young teenage girls in some parts of the Cape Coast metropolis offer themselves for sex with men for as low as GH¢1.
"Some of the boys are even not able to pay the girls. They have sex with the girls on credit and beat them when they demand for the payment," the Cape Coast Metropolitan Director of Social Welfare, Mr Daniel Wallace Akyeampong, said in an interview.
He noted that the situation was putting many young girls at risk of contracting dangerous sexually transmitted diseases.
"They are hungry and are ready to do anything to survive," he explained.
Mr Akyeampong granted the interview after a press conference by Friends of the Nation to mark the World Day Against Child Labour.
He said the fishing communities in the metropolis, including Brofoyedur, Ntsin, Gyeagyemu, Gyeagyeano, Anaafo and Kwaprow, near the University of Cape Coast, were faced with that situation of sex for money.
He indicated that poverty was increasing in the fishing communities, worsening child neglect and forcing children into child prostitution.
He said the situation required urgent attention from all stakeholders, especially the traditional authorities, to reduce the incidence.
Mr Kwesi Johnson of Friends of the Nation said the issue of child labour and trafficking (CLaT), especially within the coastal communities, was huge.
Poverty
He observed that dwindling fisheries stock had affected artisanal fishing, increasing poverty to crisis proportions within the last three decades.
"With high poverty levels, vulnerable households within the coastal fishing areas have resorted to illegalities such as fishing with chemicals and light, as well as child trafficking, as a means of survival," he said.
According to him, declining fish harvest had seriously deepened poverty in the coastal fishing communities, saying children in these communities were being forced into all sorts of illegalities.
Mr Johnson said the issue of institutional weakness in state agencies and local structure to deal with child labour and trafficking had been a major challenge.
He said Ghana had, for two consecutive years, been listed on the US State Department's Trafficking in Persons (TIP) tier two, spanning January 2014 to December 2015.
"If the story should remain the same over January to December 2016, Ghana will automatically be downgraded to tier three on the TIP Watch list. That is when the sanctions come in," he noted.
Efficient enforcement programmes
He called for the establishment of efficient enforcement and support programmes.
He also called for the gaps in law enforcement to be plugged to help reduce the expenses made in rescuing and rehabilitating victims.
Nana Kweigyah, an anti-CLaT advocate, noted that fishermen were now resorting to the use of children to cut cost in their operations.
He said many children were also engaged in selling at the beaches, even at night, and did not go to school.
New livelihoods
He called for new alternative livelihoods for people in especially the fishing communities to help reduce poverty in those communities.
The Central Regional Officer of the Domestic Violence and Victims Support Unit (DOVVSU), DSP Appiah Sakyi, said the police would not spare anyone found to be involved in any form of child trafficking and child labour.
Mrs Ama Abraham of the Central Regional Development Commission (CEDECOM) said the canker was fast giving the region a bad name.
She pledged that CEDECOM would work together with allied organisations to reduce its incidence in the region.
Credit: Graphic.com.gh