Buzzing Moments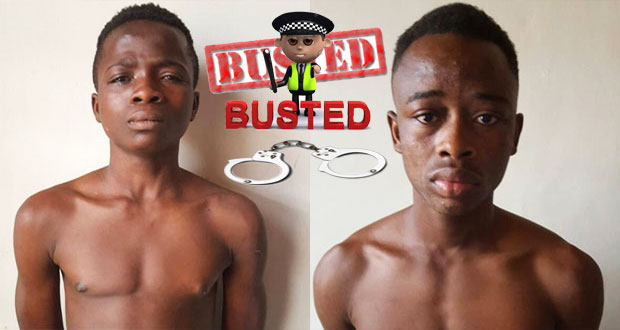 OMG! Police arrest two Ghanaian teenage robbers considered as 'dangerous & slippery'......
Two teenagers have been apprehended by the police for allegedly taking part in robberies at Buokrom Estate in Kumasi.
The two teenagers, described by the police as very slippery and dangerous, are Bismarck Yeboah, 19, and Richmond Appiah, aka 'Yesu,' believed to be 18.
The suspects were apprehended by the Buokrom Estate Police, led by Inspector Isaac Ofori Mensah, DAILY GUIDE has gathered.
Residents of Buokrom Estate, a residential area in Kumasi, have complained bitterly about rampant robberies in the area in recent times.
The residents have lost valuables such as flat screen television sets, laptops, mobile phones, as well as money in the robberies.
The alertness of the police and residents in the area led to the arrest of Bismarck, the ringleader, who also helped to arrest of Yesu.
Speaking to DAILY GUIDE, Inspector Isaac Ofori Mensah, the Buokrom Estate Police Station Officer, said Bismarck was arrested on Sunday afternoon.
According to him, Bismarck entered a house in the area and claimed to be extremely hungry, adding that he asked the inhabitants to give him some food.
The people became suspicious of Bismarck's actions and hauled him to the police station.
Inspector Ofori Mensah said the police interrogated Bismarck, who eventually confessed.
According to him, Bismarck said he and his cohorts were behind most of the robberies at Buokrom Estate.
He led the police to arrest Yesu at Ankaase.
The two young robbers, especially Bismarck, led the police to about 23 houses in Buokrom Estate where they had robbed people of their belongings.
Inspector Ofori Mensah said Bismarck confessed that they robbed some of the poor victims at gunpoint but flatly denied shooting anybody.
The police chief said Bismarck and Yesu would be arraigned before court soon, urging residents of the area to assist the police to arrest other armed robbers.
DAILY GUIDE has gathered that the Buokrom Estate Police Station lacks vehicles for patrol duties and the personnel at the station are mostly females.
--Daily Guide, I.F. Joe Awuah Jnr., Kumasi