Buzzing Moments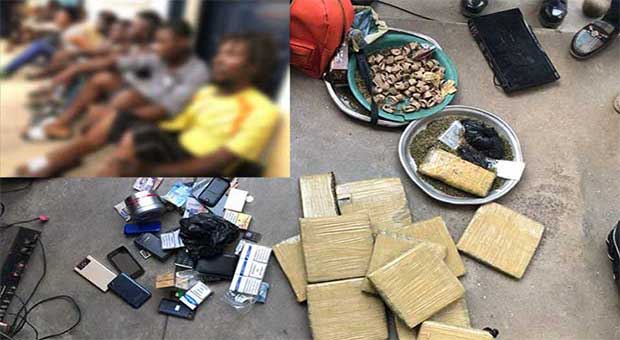 George Awiadem Maclean
Category: Buzzing Moments
Thursday, 29 March 2018 19:24
Ghana Police arrest 15 suspected criminals, retrieve Tramadol tablets, mobile phones, Indian hemp.....
The Tema Regional Police Command has arrested 15 suspected criminals in a targeted swoop organised on Wednesday at Community 5000, a suburb of Community One in Tema.
The operation which started at 2.00pm was led by the Deputy Regional Commander (DCOP) Mr. Kwaku Boadu Pepra with men drawn from various Headquarters in the region.
Items retrieved from them include 63 wrappers, 11 slabs of compressed dried leaves suspected to be Indian hemp, tramadol tablets, pair of scissors, lighters, DVD players, mobile phones, among others.
Assistant Superintendent of Police (ASP) Joseph Benefo Darkwah, PRO of the Tema Regional Police Command explained to DAILY GUIDE that the operation conducted at the well known hideout of criminals was aimed at getting rid of miscreants and hoodlums who deal in narcotics and other illegal activities in the Community.
"The 15 people including one lady suspected to be dealing in narcotics were arrested and brought to the Regional Headquarters for screening and further investigations," according to him.
He added that suspects are in police custody undergoing screening and further investigations, after which those found culpable will be charged with the various offences committed and arraigned before court.
The spokesman of the police indicated that operation will continue in various Communities, to maintain the conducive environment being enjoyed by law abiding citizens.
Credit: Daily Guide