Buzzing Moments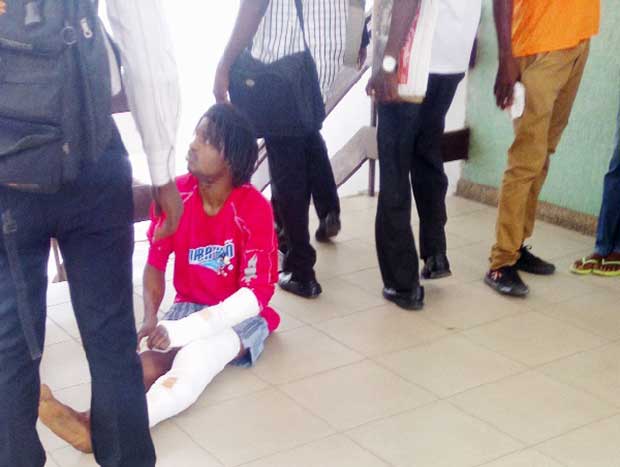 EMMANUEL EBO HAWKSON
Category: Buzzing Moments
Wednesday, 01 March 2017 03:43
Hilarious: Drama in court as suspected armed robber does the unthinkable...
The premises of the Accra Circuit Court was the scene of drama yesterday when a 20-year-old man charged with robbery started wailing uncontrollably.
Gabriel Nata was covered in bandages and plaster of paris (PoP) when he arrived on the court premises and had to be carried to the courtroom.
As he was being sent to the courtroom, Nata started wailing, complaining of pains.
His wailing was so loud that it attracted many people, including those in courtrooms.
The accused, together with two others, is alleged to have attacked two ladies with a gun at Abokobi, near Accra and robbed them of their mobile phones valued at GH¢4,300.

He is said to have sustained various injuries after being attacked by a mob during the alleged operation.
The other members of the gang are reported to have escaped, leaving their alleged accomplice to his fate.
Bail
Nata has pleaded not guilty to two counts of conspiracy to commit robbery and robbery.
When he appeared in court yesterday, his lawyer, Mr Kofi Bonney, prayed the court to grant him bail to enable him to seek further medical care.
He also argued that per a Supreme Court judgement, any court of competent jurisdiction could grant bail in any offence.
The court, presided over by Mr Aboagye Tandoh, agreed with Mr Bonney and admitted the accused person to bail in the sum of GH¢75,000 with two sureties, both to be justified.
"I have taken into consideration the injuries of the accused person, the facts of the case and the nature of the alleged offence to grant this bail," the presiding judge said.
The case was adjourned to March 14, 2017.
Facts of the case
According to the prosecutor, Chief Superintendent Duuti Tuaruka, Nata and members of his gang embarked on a robbery operation on February 9, 2017 at 12:30 a.m. at Abokobi, near Accra.
The gang, the prosecutor said, jumped into a house and met two ladies in the yard. They pointed guns at them and subjected them to severe beatings.
"One of the ladies managed to run into the room and locked up the door, but the gang broke into the room with a cement block and at gunpoint took two iPhone 6 valued at GH¢3,600 and one Infinix phone valued at GH¢700," the prosecutor said.
C/Supt Tuaruka added that some neighbours heard some noise from the house and came to the rescue of the ladies.
"Two members of the gang managed to escape, but Nata sustained various degrees of injury. A police patrol team, however, rescued Nata from the mob," he said.
Source: Daily Graphic